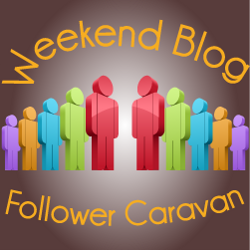 Hi everyone! Welcome to WBFC #26 and Welcome to my newest blog. And to officially begin here, I am joining the Weekend Blog Follower Caravan from its new home.This week's WBFC was made possible by Chika Bits and Dens Online.
For those who are interested to join, this week's tasks are to:
1. Make a blog post with WBFC Badge to welcome all our participants.
2. Submit your blog post to the linky tool of the
host blog.
3. Visit other participating blogs and leave a comment.
4. Follow all participants thru
Google Friend Connect
.
5. Don't forget to leave a comment on the WBFC's home.
This is a weekly meme designed to help bloggers gain followers through Google Friend Connect and email subscriptions.